Anti-Racism & Jewish Privilege in Israel

Live-tweets from a planning meeting of an "anti-racism rally"
reveal that most Israelis won't oppose racism against non-Jews

by David Sheen // January 17, 2012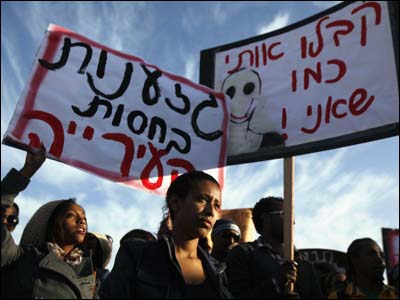 In January 2012, an Israeli media report revealed that the residents of an entire housing complex in the town of Kiryat Malachi secretly colluded to prevent any Ethiopian-Israelis from moving in. When the story came to light, it sparked anger among many Ethiopian-Israelis across the country. Within days, a protest in Kiryat Malachi drew 4,000 protesters, and later on that same day, a group of Ethiopian activists met at Beit Ha'am, the downtown Tel Aviv headquarters of the so-called J14 social justice movement, to plan another anti-racism protest for Tel Aviv.

Exactly a year earlier, hundreds of chief rabbis across the country had issued a religious edict forbidding Jews from renting apartments to non-Jews generally, and to African asylum-seekers specifically. With the exception of one small protest in the hippie haven of Pardes Hannah, Israelis did not demonstrate any opposition to the edict at that time. Did the Ethiopian-Israelis now enraged at racists who schemed to deny them housing realize that the discrimination might have been nipped in the bud if they had publicly opposed it earlier?

Sadly, no. As my live-tweets from the protest planning meeting reveal, Ethiopian-Israeli activists -- all late-twenty-somethings with university educations, the young elite -- refused to condemn racism against non-Jewish people in Israel at the rally. They said they would only speak out against racism against Jews of other ethnic groups -- in order to convince more Jewish Israelis to show up to the demonstration. Though non-Jewish people in Israel face even more racism than they do -- this should be obvious from the fact that the anti-Ethiopian pact was secret, while the anti-Gentile rabbis' letter was shamelessly made public -- organizers refused to include African asylum-seekers among those who deserve to live free of discrimination.